Becoming A Whistle Blower – Qui Tam Action
You may have heard the term whistleblower, but maybe you do not know exactly how the process of a whistle blower works or who can become a whistle blower.  The definition of a whistle blower according to the Merriam-Webster dictionary is: "one who reveals something covert or who informs against another <pledges to protect whistle–blowers who fear reprisals"
A lawsuit brought on by a whistle blower is known as a qui tam lawsuit or qui tam action.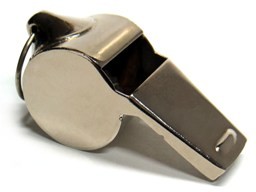 This is usually the case when a large corporation is guilty of wrongdoing and someone on the inside knows about it and decides to blow the whistle on them. This has been the case in lawsuits related to defective products where someone working closely to the maker of the product such as an employee or government contractor becomes a whistle blower.
However honorable a deed whistle blowing may be, it can be dangerous to the whistle blower for a few reasons. Obviously the first one is the risk of being fired or demoted. The good news is the whistle blower is usually compensated for this since they are the good guy doing the good deed.
You might remember the GE qui tam case where whistle blower Khaled Asadi was fired for reporting allegations of GE Foreign Corrupt Practices Act violations in Iraq to his supervisor and GE Energy's ombudsperson.  He was not entitled to protection or compensation for being fired because GE and the U.S. Chamber of Commerce required that whistle blowers report allegations internally, yet when he did he was fired because he did not report to the Securities and Exchange Commission (SEC). Read the full story at forbes.com.
Unfortunately there is no way to predict what the actual outcome of an investigation will be and the whistle blower is taking a risk.
He or she could end up without a job and no compensation
Or continued employment and whatever ramifications might come with an investigation that leads to major changes within the corporate structure.
Our defective product lawyers in Orange County have been successfully receiving large settlements for our clients for 30 years. We are passionate about stopping the bad guys and we have proven results.
Contact us today for a free legal consultation at 1-800-561-4887.