Are Auto Safety Advances Unaffordable for Most Consumers?
It's not as if automakers do not have the access to cutting-edge technology. Case in point, Toyota Motor Corporation's redesigned Lexus LS460. This car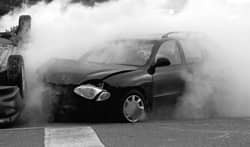 has a safety feature where an infrared beam acts as an extra set of eyes for the driver using radar and two high-definition cameras to detect when it might hit another object vehicle or animal. The price tag? $70,000. According to a Bloomberg news report, manufacturers are rolling out superior auto safety technology. But, you don't get these auto safety features unless you are willing to pay the premium price for the manufacturer's top of the line vehicles.
Auto Safety Features that Save Lives
With the Detroit Auto Show rolling out its concept cars and cool auto safety features, it is becoming apparent that cutting-edge safety technology is only reserved for the select few who can pay for it. The Insurance Institute of Highway Safety, based on its analysis of crash data from 2004 to 2008, states that a fifth of crashes causing injury could be prevented or lessened in severity if all passenger vehicles had:
• Forward collision warning systems
• Lane departure warning
• Blind spot detection
• Adaptive headlights
Putting Safety First
It is disturbing that auto makers will install such superior auto safety technology for a premium price, but will go to any lengths to shortchange the average consumer who does not have that kind of money. It is true that today's technology will become a lot cheaper in a few years. But, as auto product liability lawyers who fight automakers on behalf of injured victims, we know that it doesn't mean we're going to see these features in regular vehicle several years from now.
We've been fighting for stronger roofs in vehicles, stronger windshields, windows, car seats that are a little more than garden chairs and seat belts that don't tear, shred or unlatch in the event of a violent crash. A lot of these features often cost a couple of hundred dollars more. But auto manufacturers are still reluctant to offer these simple auto safety features, let alone crash avoidance systems, as part of the package to the average consumer.
That said, automakers such as Honda and Toyota are beginning to see that well-heeled consumers are willing to pay a pretty penny for high-end vehicles with premium safety features. I truly hope that we are close to a time when automakers are more interested in investing in vehicle safety than being concerned about the number of cup holders in their vehicles.